It is with immense sadness that the EB Network has learned of the death of Dr Clare Lukehurst OBE. As the UK National Team Leader for the International Energy Agency Task 37 (Energy from Biogas) for many years, she was involved in numerous publications, annual reports and the dissemination of the Task's work. She worked tirelessly to ensure that the UK maintained its interest in the Task and her passion and enthusiasm for anaerobic digestion helped inform its activities over many years.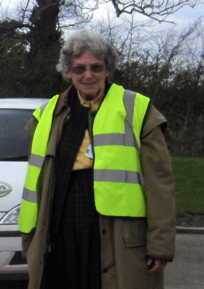 Clare loved to travel, with a favourite destination being Singapore. Although her holidays might include normal tourist destinations such as botanic gardens, there would always be more unusual visits which reflected her wider interest in farming, nature and the environment, such as examining farms and farming practices in places as varied New Zealand and Jersey. Her garden in Broadstairs, Kent, was also a reflection of these interests, with the scent of hyacinths filling the house in spring and the garden a riot of colourful flowers in summer.
She was a regular attendee at her local Catholic church and was a key member of the congregation.
Although her knowledge and interests were wide, Clare considered herself to be a geographer. She became a Fellow of the Royal Geographical Society in 1959 and loved to visit its headquarters in London. She taught geography for many years, ending her teaching career at Brighton Polytechnic. She was a member of the Isle of Thanet Geographical Association for many years and its Vice-President for a decade.
Her PhD thesis, entitled "The Changing Use of the Stour Marshes, 1840 to 1964" was gained at Birkbeck College, London. Clare had been trying for months to get some 'people in power' to listen to her on a particular objective she was trying to achieve, but without success. When she attained her Doctorate, she approached these people again, this time with 'Dr.' in front of her name and found that suddenly, miraculously, they began to pay attention.
The prefix was further balanced out by the 'OBE' suffix which Clare was awarded in the 2015 Queen's Honours List as an 'indefatigable promoter, defender and advisor on anaerobic digestion (AD)'.
Her interest in AD grew after she left Brighton Polytechnic to become a consultant on rural development and renewable energy. She became a Fellow of the British Institute of Agricultural Consultants and worked on a number of projects, introducing the Danish concept of centralised AD to the UK and in a study for the North Tamar Business Network in 1993. The Holsworthy biogas plant was originally based on these ideas. She felt that integrating AD into livestock farming is vital and that an AD plant should also be regarded as a piece of essential farming equipment for such farms.
Clare was awarded a Lifetime Achievement Award at the Anaerobic Digestion & Biogas (ADBA) Industry Awards in 2013.
Clare's energy and enthusiasm for life were unbounded, as evidenced by her numerous publications, speaking engagements, travelling activities and wide interests in energy, nature and the environment. She will be missed very much by all who knew her and the AD world is a sadder place without her determination, knowledge and influence.