The Environmental Biotechnology Network (EBNet), based at the University of Southampton, is pleased to announce that the abstract for one of their co-sponsored 'Farm of the Future' reports on 'Decarbonising Farm Vehicles and Future Fuels' has won first place in the Best Scientific Abstracts from the Union of European Academies for Science Applied to Agriculture, Food and Nature (UEAA). Angela Bywater, EBNet's Network Co-manager and Lead Editor of the report series, said, "As an interdisciplinary team from agriculture, government and academia, we are really excited that our work on future fuels and powertrains has been recognised by the UEAA's international jury."
The Farm of the Future series included a main report, prefaced by Lord Deben of the UK's Climate Change Committee, and it covered areas as diverse as resource management, renewable energy systems, enterprise decarbonisation and policy recommendations. In addition to the report on Farm Vehicles and Future Fuels, there were four further specialist sector reports on decarbonising the UK's: Cereal Production, Dairy Production, Horticultural Production and Intensive Meat Production. More than 30 specialist authors from academia and industry took part in the report.
The BBSRC/EPSRC-funded Environmental Biotechnology Network has more than 1100 members from academia and industry. Its remit covers the use of engineered microbial systems for pollution prevention, bioremediation and resource recovery, so its members' interests cover a wide area. These interests include anaerobic digestion, composting and the agricultural land use of products derived from these systems. The Royal Agricultural Society of England (RASE), who published the report series, wished to show farmers practical ways that they could decarbonise their businesses, using tools that are available now, or will be available in the very near future. As RASE's motto is 'Practice with Science', EBNet was more than happy to help support this worthwhile project as part of their outreach activities.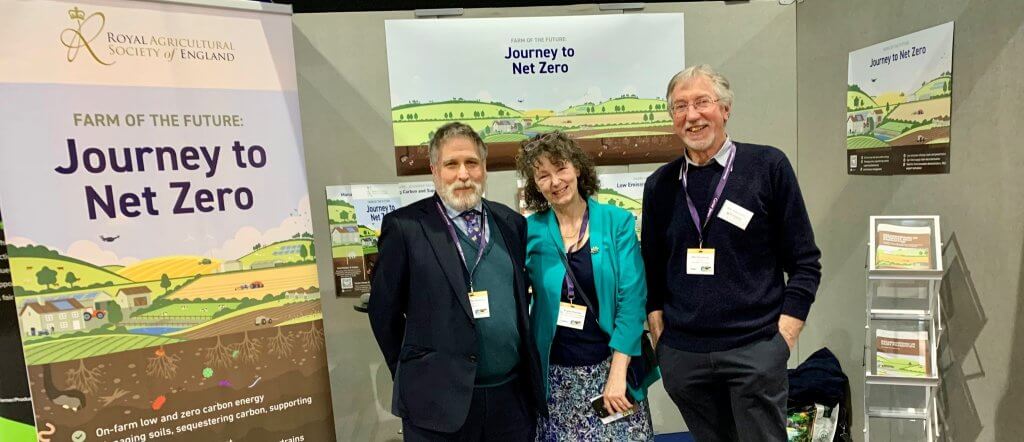 The RASE reports can be found here.
The UEAA awards and abstracts are listed here. The 'Farm of the Future – Decarbonising Farm Vehicles and Future Fuels' report was written by Dr Nick McCarthy and Keith Budden of Cenex, and Jonathan Wheeler of Wheeler Woodhouse and edited by Richard Gueterbock (Foodchains), Angela Bywater (EBNet/University of Southampton) and Mike Woollacott (Greenwatt) (see photo). The abstract was written by Angela Bywater and Richard Gueterbock.