Webinar: Thu 11 Nov, 11.00 am-noon
This talk is by Professor Damia Barcelo – IDAEA-CSIC, Spain. Registration is now closed.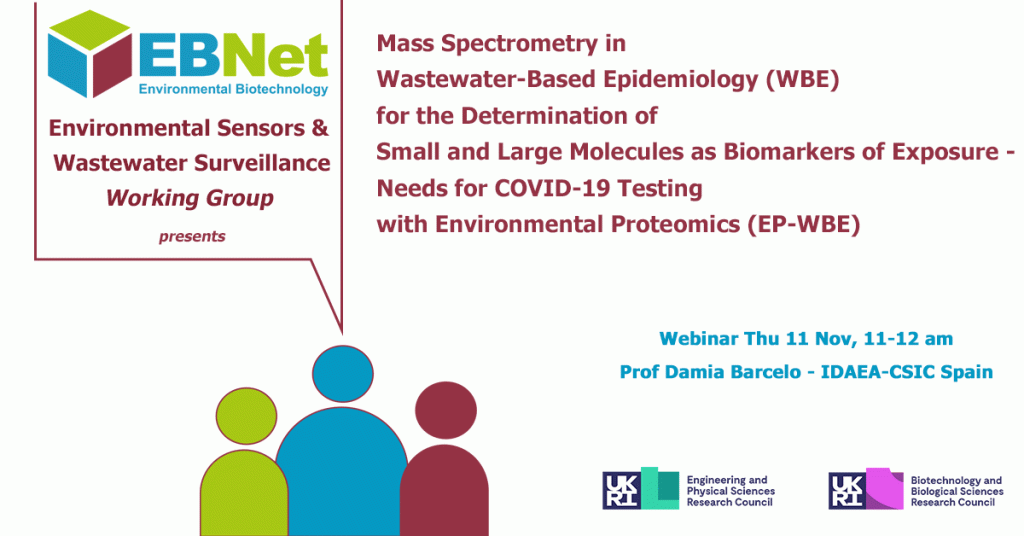 The Institute of Environmental Assessment and Water Studies (IDAEA) is an environmental science institute in the Spanish National Research Council (CSIC) devoted to the study of the human footprint on the biosphere. Prof. Damia Barcelo has extensive international expertise on the analysis, fate, risk and removal of emerging contaminants and microplastics from water as well as the sewage epidemiology of drugs and proteins.
Wastewater-based epidemiology (WBE) estimates collective consumption or exposure to chemicals or pathogens by tracking the substances excreted in the population's wastewater. WBE is generally applied using mass spectrometry (MS) and provides a fingerprint of health hazards, habits, and lifestyle of the population served by a wastewater treatment plant (WWTP). This presentation reports three applications of WBE using MS: 1) Detection for small molecules as biomarkers, 2) Detection for large molecules as biomarkers, and 3) Detection of viral proteins of SARS-CoV-2 by High Resolution MS (HR-MS) and MALDI-TOF-MS.
This fascinating talk continues a new series brought to you by Dr Zhugen Yang, Cranfield University and Dr Martin Spurr, Newcastle University – heads of the EBNet Working Group: Environmental Sensors and Wastewater Surveillance.
To learn more about the Working Group which is free for EBNet members to join, go to: https://ebnet.ac.uk/about/wg-details/wg-sensors/